Notification of Incident Recovery
On October 11th between 15:57 and 19:17, it was not possible to process applications for money transfer due to an error.
It has now been resolved and it is possible to utilize the services.

We deeply apologize for any inconvenience caused and we thank you for your continued patronage.
Notice of Promotion
   
A new promotion has started, where customers who send 10,000 yen or more per transaction (excluding the handling fee) using the Western Union International Money Transfer Service via Convenience Stores between July 1st and September 30th, 2017 are entered into a drawing to win a wonderful prize. Don't miss out on this opportunity!

※Pre-registration is required in order to use the Western Union International Money Transfer Service via Convenience Stores. Please contact the following number for details about the pre-registration procedures.

【Contact】
DSK International Money Transfer Support Center
Tel: 0120-3630-44 (Toll Free)
Hours: 9:00-22:00 (Open Everyday)
Request to customers who were not able to send mon
Request to customers who were not able to send money due to high volume of traffic since May 3rd

Since May 3rd, there was an incident where some customers were not able to make remittance application from Famiport or Kstation.
If the following message appears many times while making the remittance application,
we are very sorry for the trouble but kindly contact the DSK International Money Transfer Support Center.

【Message displayed on Famiport / Kstation】
To our valued customers, we are currently experiencing an exceptionally high volume of traffic,
Please try again shortly. We are sorry for any inconvenience caused.

【Contact】
DSK International Money Transfer Support Center
Tel: 0120-3630-44 (Toll Free)
Hours: 9:00-22:00 (Open Everyday)

For this situation, you may also receive a telephone call from the DSK International Support Center.

We are very sorry for any inconvenience.

 次へ 全40件中 1-3件 1/14頁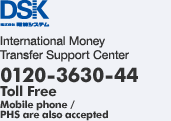 9:00-22:00, everyday
Supported languages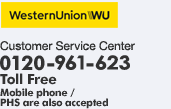 9:00-22:00, everyday