Notice of Maintenance (January 18 2021)
We will undergo system maintenance as specified below.
The connection may be interrupted during the system maintenance.
We apologize for any inconvenience caused and appreciate your understanding.

【Scheduled date and time】from January 18 2021 2:30 to January 18 2021 3:00

During the system maintenance, the connection may be interrupted when trying to log into the website or using the remittance amount simulation function.

(2021/1/7 Start) Notice of Change of Layout Wester
(2021/1/7 Start) Notice of Change of Layout Western Union International Money Transfer Receipt

Regarding the International Money Transfer Receipt that you receive from Family Mart after sending money:
Starting 7 January, the layout of the Money Transfer Receipt will change.

The layout will change, however the Money Transfer Receipt contents regarding your money transfer will not change.

*As always, please keep your Money Transfer Receipts in a safe place for reference.

URL: wu-moneytransfer.com/en/pdf/notice202101_en.pdf
[Web User Site] Addition of Download Function for
[Web User Site] Addition of Download Function for List of Money Transfers

From the "Inquiry your Application" menu button on the web user site,
your List of Money Transfers (completed money transfers only) is now available for download.

Please click on the "Inquiry your Application" menu button on the web user site and check the detail.
 次へ 全73件中 1-3件 1/25頁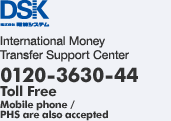 9:00-22:00, everyday
Supported languages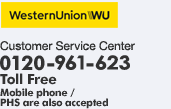 9:00-22:00, everyday