Notice of Promotion
   
A new promotion has started, where customers who send 10,000 yen or more per transaction (excluding the handling fee) using the Western Union International Money Transfer Service via Convenience Stores between October 1st and December 31, 2018 are entered into a drawing to win a wonderful prize. Don't miss out on this opportunity!

※Pre-registration is required in order to use the Western Union International Money Transfer Service via Convenience Stores. Please contact the following number for details about the pre-registration procedures.

【Contact】
DSK International Money Transfer Support Center
Tel: 0120-3630-44 (Toll Free)
Hours: 9:00-22:00 (Open Everyday)
Notice of Maintenance (November 4 2018)
We will undergo system maintenance as specified below.
During the maintenance, the Western Union International Money Transfer Service via Convenience Store will be unavailable.
We apologize for any inconvenience caused and appreciate your understanding.

【Scheduled date and time】 November 4 2018, from 14:30 to 18:00

Money transfer procedures through Famiport or Kstation or the website, as well as payment of money transfers at convenience stores will not be possible.
Also, regarding transactions in which funds have already been sent, it will not be possible to receive the funds in the destination to which they were sent.

【Imoprtant Notice】 The use of the Individual Numbe
【Imoprtant Notice】 The use of the Individual Number (My Number) at the International Money Transfer services.

Thank you for your continued patronage of the Western Union International Money Transfer Service via Convenience Stores.

The Law (*) states that all customers that are using the Western Union International Money Transfer Service via Convenience store, and that have not registered their Individual number yet, will have to do a confirmation procedure before the 31st of December 2018.

Therefore we are asking all our culstomers that have not registered their Individual number yet to do it as soon as possible.

Please bear in mind that if we cannot confirm the registration of the Individual number(My Number) by the year 2019, we will temporary suspend the service for the customer.

(For inquiries)
International Money Transfer Support Center
Toll Free number: 0120-3630-44 (you can call from a cellphone or a PHS phone)
Business Hours: 9:00 to 22:00 (every day of the year)

*We will proceed as stated in (the laws for the use of the Individual number as an identification number for customers in legal procedure etc.) or (the laws of the disclosure of the records of the documents related to the survey on the international remittance to contribute in the specific calculation of the national taxes payment etc.)

We look forward to continue to serving you at the Western Union International Money Transfer Service via Convenience Stores.
前へ 次へ 全55件中 4-6件 2/19頁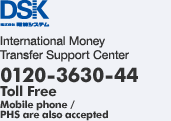 9:00-22:00, everyday
Supported languages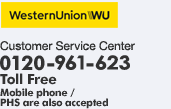 9:00-22:00, everyday