Notice of Maintenance (June 23 2022)
We will undergo system maintenance as specified below.
During the maintenance, the Western Union International Money Transfer Service via Convenience Store will be unavailable.
We apologize for any inconvenience caused and appreciate your understanding.

【Scheduled date and time】 June 23 2022, from 4:00 to 4:30

・It is not possible to pre-register for the service on the website.
・It is not possible to download the list of money transfers on the website.

====

Notice of Maintenance conclusion notice

The maintenance operations have been concluded.
Services are now available for use.

We apologize for the inconvenience and we look forward to your continued patronage of our services.
Notice Regarding the Famiport Terminal Migration
From mid-May 2022, FamilyMart is gradually shifting to the new multi-copier with the "Famiport" function.

After the transfer is complete, you will need to use the multi-copier to make a money transfers at FamilyMart.

Please refer to the User's Guide (http://wu-moneytransfer.com/en/first/pdf/guide_en.pdf)
for how to operate the multi-copier.

We apologize for the inconvenience and thank you for your understanding.
REGARDING THE SUSPENSION OF MONEY TRANSFERS TO RUS
REGARDING THE SUSPENSION OF MONEY TRANSFERS TO RUSSIA AND BELARUS

In light of the recent international situation, Western Union will suspend money transfer to Russia and Belarus.

Money Transfer from Japan will be accepted until March 21, 2022 (Monday).
Local cash payouts will be accepted until March 23, 2022 (Wednesday).
※Local cash payouts in Russia can only be made in local currency.

We apologize for any inconvenience, and thank you for your understanding.
前へ 次へ 全88件中 7-9件 3/30頁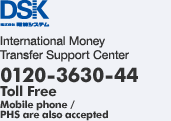 9:00-22:00, everyday
Supported languages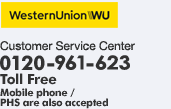 9:00-22:00, everyday