CAMPAIGN ANNOUNCEMENT:OTOSHI DAMA CAMPAIGN!
OTOSHI DAMA CAMPAIGN!

¥10,000 will be awarded to 100 lucky customers in this raffle draw (for a total of ¥1 Million), as follows:

•¥10,000 --- 100 Lucky Winners

Campaign Period is from January 1 to 31, 2020.

Only customers who sent money during the campaign period shall win.

The prize money will be sent by postal money order. Please update your mailing address with us.

At the end of the campaign, all winners' photos and names will be posted in our Facebook Page (wu-cvs).

For more details:
• CUSTOMER SUPPORT CENTER: 0120-3630-44 (free-dial, 9 AM to 10 PM everyday)
• FACEBOOK PAGE: wu-cvs

CAMPAIGN ANNOUNCEMENT:THANK YOU 2019 & HELLO 2020!
THANK YOU 2019 & HELLO 2020!

We will be giving away cash prizes in a grand raffle draw for a total of 900,000, as follows:

•¥100,000 --- 3 Lucky Winners
•¥ 50,000 --- 10 Lucky Winners
•¥ 10,000 --- 10 Lucky Winners

Customers who sent money every month in 2019 are automatically entered in the raffle draw.

Winners will be notified by phone and by SMS message.

If we don't receive any reply within two (2) days, we will pick an alternative winner.

At the end of the campaign, all winners' photos and names will be posted in our Facebook Page (wu-cvs).

For more details:
• CUSTOMER SUPPORT CENTER: 0120-3630-44 (free-dial, 9 AM to 10 PM everyday)
• FACEBOOK PAGE: wu-cvs

关于年末年初的邮寄物品的寄送
2019年12月28日(周六)起至2020年1月5日(周日),我们将暂停发送以下邮寄物品。

・登录证(包括首次发行、再次发行)
・密码的再发行(寄送部分)
・登录内容确认表
・事前登记申请表(邮送您依赖的数量)

便利店・西联国际汇款服务在年末年初,也将会每天提供服务。

Famiport服务时间:9:00-21:00(无休假)
DSK国际汇款服务中心:9:00-22:00(无休假)
免费电话:0120-3630-44

对各位顾客带来不便在此深表歉意,敬请谅解。

今后还请多多惠顾西联国际汇款服务。
 次へ 全59件中 1-3件 1/20頁


营业时间 9 :00~22 :00
(年中不休)
语言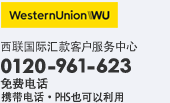 营业时间 9 :00~22 :00
(年中不休)